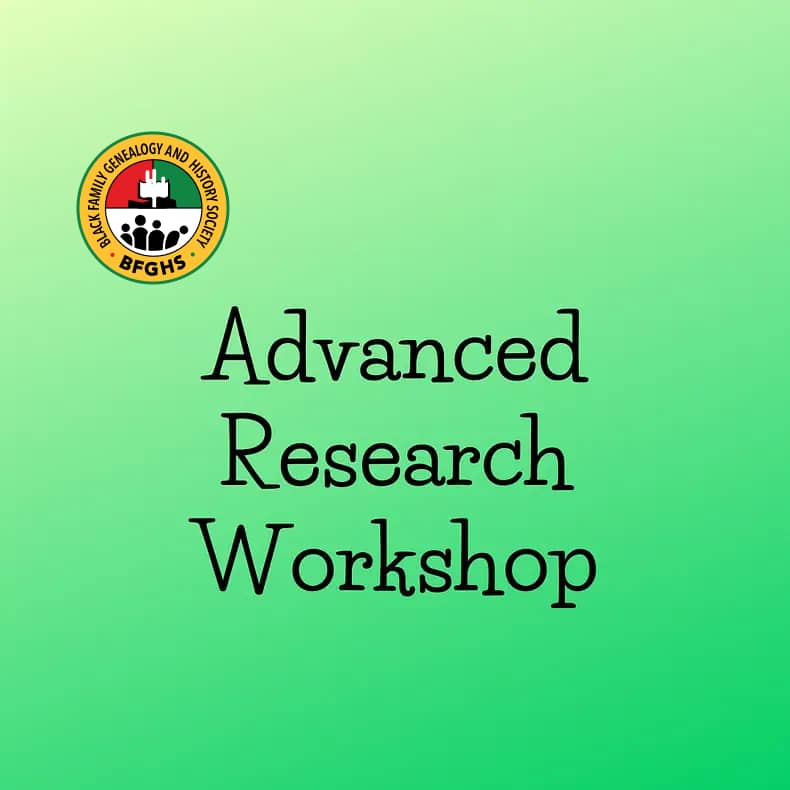 THE ADVANCED RESEARCH WORKSHOP
THE ADVANCED RESEARCH WORKSHOP
Black Family Genealogy and History Society
Virtual Session Online 7:00 PM
In this workshop each participant will share, in a discussion format, the knowledge, resources, and techniques they are using for each topic to advance their studies and/or solve difficult research questions.
TOPICS FOR 2023
January 12, 2023 – Advanced County Research Techniques. (Example: Finding rare document            collections, in-person or online, and courthouse research)
February 9, 2023 – Advanced State Archive Research Techniques. (Are you familiar with the holdings at your research State Archive?, Do you have a contact person?)
March 9, 2023 – Advanced Census Record Techniques. (Includes non-population census
records, FAN club and community research) Keeping track using charts and timelines.
April- 13, 2023 – DNA skills (Endogamy, pedigree collapse), charts, books, and techniques.
May 11, 2023 – Research Techniques for Large and Small Repositories. (Example: Special collections) Share your skills of how you research before you approach each repository.
June 8, 2023 – Large and Small Plantation Research Techniques. (Challenges and complexities, the name game)
July 13,2023 – Military and Pension Records. Finding aids, Books on regiment engagements, finding the laws associated with these records.
August 10,2023 – Freedmen's Bureau/Freedman's Bank records. Prior research is essential.
September 14,2023 –Deeds, Homesteads, Bounty, Patents, Warrants and/or Probate Records.
October 12,2023 – United States Federal, State, and local laws. International Law.
November 9, 2023 – Advanced Map Usage and Techniques. (Using maps with your documents help to tell the story)
December 14, 2023 – Historical Migration Patterns. (History, Stories, Maps, Railroad Research, etc.)
_____________
Ò2023 Rosalind Matthews – Family Historian – rozmatthews@gmail.com